Protesters jailed for up to five years and three months for being part of 2019 disturbances around PolyU's Kowloon campus.
A Hong Kong court has jailed 13 men for up to five years and three months for taking part in a riot near a university under siege by police at the height of the city's anti-government protests in 2019.

Deputy District Judge Veronica Heung Shuk-han said the protest outside Polytechnic University (PolyU) in Kowloon had turned the heart of the city into a "mini war zone" as she passed sentence at West Kowloon Court on Saturday.

"The protesters clearly flouted the law and … challenged the authority of police and the rule of law," Heung told the court.

Among those sentenced was University of Hong Kong student Kok Tsz-lun, one of 12 Hongkongers caught in mainland waters after they tried to flee to Taiwan by boat two years ago.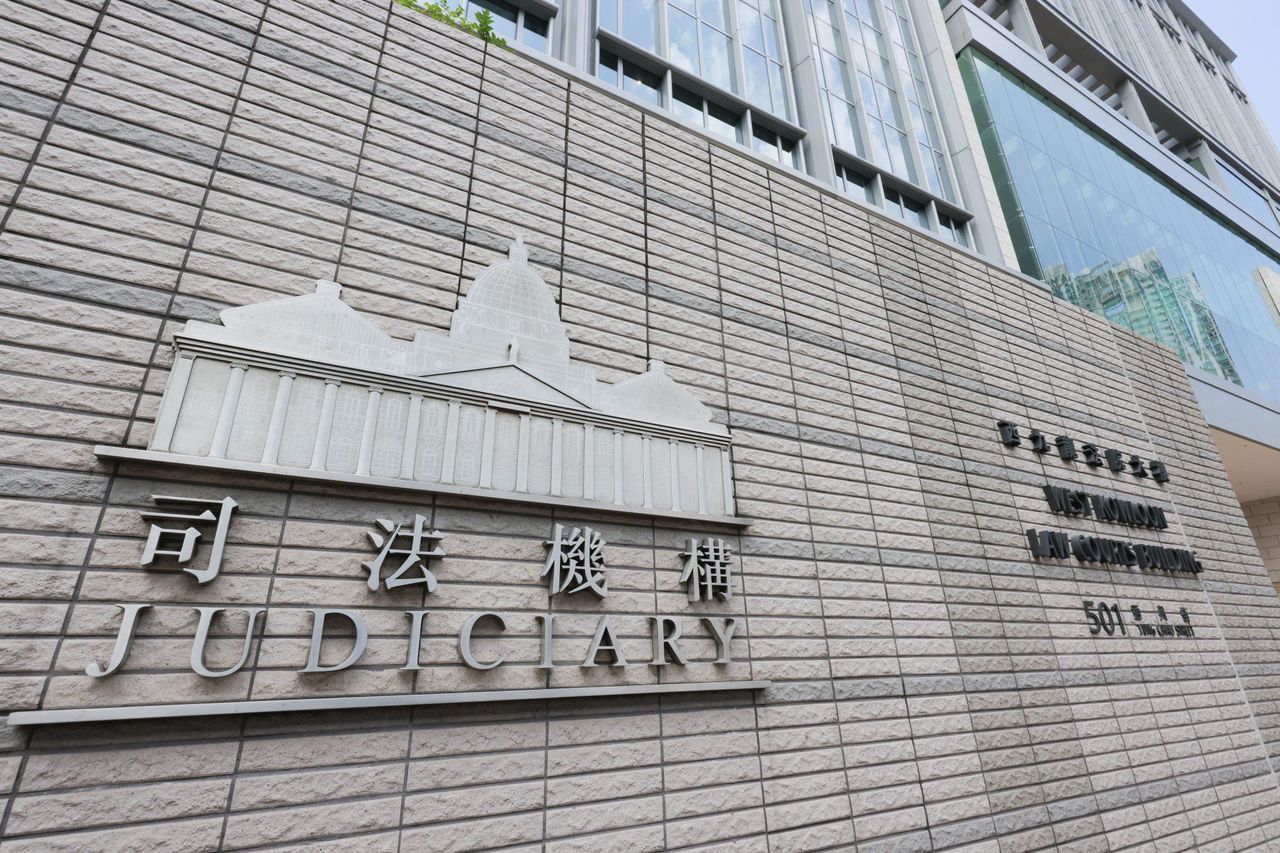 West Kowloon Law Courts Building ins Sham Shui Po.
The 21-year-old engineering undergraduate received the shortest term of 29 months, as Heung said he had already been jailed for his escape bid and pleaded guilty to the rioting charge at the earlier opportunity.
Kok was jailed for seven months by a Shenzhen court in December 2020 for illegal crossing of the border. He was handed over to Hong Kong police in March the next year after he completed his sentence and has been held in custody since.
Kok and six other fugitives were sentenced to 10 months in July for perverting the course of justice. He is expected to complete his latest sentence next summer.
The other 12 defendants, aged between 21 and 33, were jailed for between 47 and 63 months.
The 13 men were the first of 213 people alleged to have been involved in the disturbances to be convicted and sentenced over the clashes in Yau Ma Tei after they were rounded up by police on November 18, 2019.
The demonstrations in and around PolyU were some of the most intense confrontations of the unrest, which was sparked by proposed extradition legislation which was later scrapped.
Protesters occupied the Hung Hom institution and challenged riot police who attempted to arrest them en masse by barricading them on the campus.
Sympathisers staged several protests close to the university to distract police in a bid to give them a chance to escape.
The trial heard that about 2,000 people congregated near the Yau Ma Tei MTR station at 10.30pm on November 18, about 1.5km (1 mile) away from Polytechnic University.
Nearly 250 petrol bombs were thrown at police in the space of 50 minutes, which caused fires at several spots along Nathan Road.
Officers fired about 400 rounds of tear gas and rubber bullets and used nine tear gas grenades in an attempt to disperse the crowd, the court heard.
A total of four officers were injured as a result of the incident.
Police rounded up the 213 in a section of Nathan Road between Waterloo Road and Hamilton Street at around 11.26pm.
They were detained for two days before they were taken to six Magistrates' Courts across Hong Kong to face rioting charges.
Kok, who was seen to have carried a lighter, and 22-year-old Lam Man-nok, who had a glass bottle that resembled a petrol bomb, pleaded guilty to rioting before the trial started in April.
Lam was jailed for a lesser term of 47 months because of his guilty plea.
Heung convicted the other 11 defendants earlier this month, after she ruled that anyone caught inside the police cordon could not have been innocent passers-by because there had been repeated warnings to leave the area.
Four of the 11 were also convicted of charges relating to possession of weapons and articles for damaging property.
Ma Yu-leung, 27, a financial planner, was slapped with the heaviest sentence after he was found to have carried a petrol bomb to the protest.
Matthew Lee, 26, a clerk, decoration business owner Chan Chun-wai, 28, Lau Ka-lok, 26, a student, photographer Cheng Ka-yue, 33, courier Liu Cheuk-yin, 25, decoration trainee Tse Ho-ting, 25 and barista Cheung Ho-ki, 23, were all jailed for five years.
Kingsley Leung Yu-san, 21, also a student, was given 57 months in jail.
Airport ground worker Yung Ka-chun and courier Lo Sheung-man, both 26, were each sentenced to 54 months behind bars.