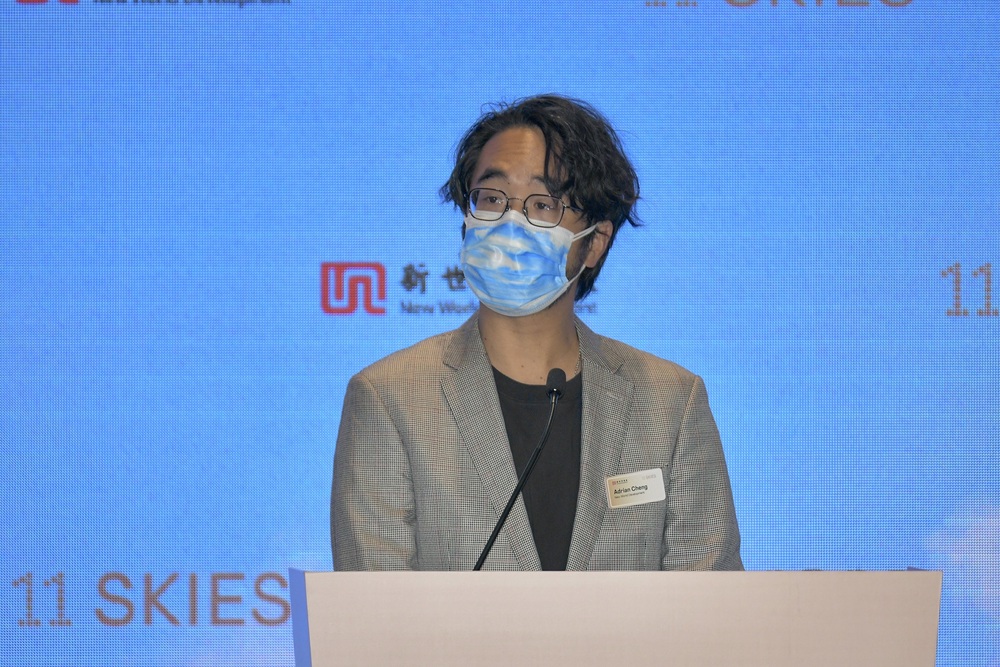 11 SKIES 'a shining star' to help post-pandemic recovery
Over 10,000 business figures and industry leaders attended a forum Thursday in-person and online to discuss how the development of 11 SKIES, the city's latest retail, dining and entertainment landmark could help the post-pandemic recovery.
The new landmark 11 SKIES is a HK$20 billion investment in an integral part of the SKYCITY project by New World Development, combining three Grade A office towers, an indoor entertainment hub and over 800 retail and dining facilities.

Focusing on the themes of professional services, tourism and innovation and technology, senior industry figures talked about how SKYCITY and 11 SKIES could strengthen Hong Kong's dual role as an international financial center and professional services hub.

They also shared on the forum how the project leverage on its unique strengths to re-energize industries hit by the pandemic and improve customer experience with innovative technology.

Guest-of-honor Secretary for Transport and Housing Frank Chan Fan said, "SKYCITY will be a shining star of the airport island" alongside other ongoing projects including the adjacent AsiaWorld-Expo Phase II development.

Airport Authority CEO Fred Lam Tin-fuk said, "The Three-runway System, together with other major developments such as SKYCITY, will further enhance the airport's capacity and functionality with a view to realizing the Airport City vision and transforming the airport into a destination in itself."

New World Development CEO Adrian Cheng Chi-kong said, "I believe that 11 SKIES will be the first stop for GBA visitors to Hong Kong, serving as a launchpad for Hong Kong's economic and trade activity with the GBA. It will also be key to building a new economic driver for Hong Kong."

Scheduled to be opened in phases from 2023 to 2027, SKYCITY is said to be one of the largest commercial developments in Hong Kong and will provide a maximum gross floor area of about 3.77 million square feet.

Tourism Board's executive director Dane Cheng Ting-yat noted SKYCITY is located right next to the airport and close to the GBA, bringing more convenient transport for tourists. He also underlined the infrastructures of SKYCITY and high-end retail and dining outlets in 11 SKIES, describing it a cardiac agent for the city's tourism.