Health authorities had stopped distribution after identifying more than 50 defects to vials – including cracks, leaks and exterior stains.
More than 11,000 people took the BioNTech vaccine against the coronavirus when distribution resumed on Monday following a nearly two-week suspension due to packaging problems.

About 5,200 residents received their first dose, while another 6,500 took their second one. The day before the suspension on March 24, about 14,400 people received their first jab of BioNTech.

The roll-out was suspended on the advice of the German manufacturer and Chinese distributor Fosun Pharma. Frontline staff had identified more than 50 defects to vials – including cracks, leaks and exterior stains – of the vaccine, which was jointly developed by US-based Pfizer.

Dozens of people were lining up for the shots at the Sun Yat Sen Memorial Park Sports Centre in the morning. Among them was James Cook, 61, who was taking his second dose.

"I went with BioNTech because I've worked with Pfizer in the past, and I trust that the vaccines are of good quality," he said. "Obviously I want to travel, but I also want to do my duty as a citizen."

But Filipino domestic worker Melissa Tolentino, 39, complained the queue was too long.

"I waited for more than an hour to get into the vaccination centre," she said, adding the line snaked all the way up to the second floor.

"My employers actually encouraged me to take the vaccine after they had no problems themselves taking the shot. The process went smoothly, and I'm happy with how it went."

Meanwhile, top Hong Kong infectious disease expert Professor Yuen Kwok-yung said a mix-up involving a cancer patient and his companion who received the wrong jab against Covid-19 after going to the incorrect vaccination centre was an isolated incident, pointing to stringent checks in place at the venues to ensure the scheme ran smoothly.

The government pandemic adviser, from the University of Hong Kong (HKU), made the remarks after the Post reported on Sunday that 55-year-old blood cancer patient David Allardice and his companion, who is over 70 years old, were given the China-made Sinovac jab rather than the BioNTech one from Germany they had booked.

Yuen, who received his BioNTech booster shot at the Sun Yat Sen Memorial Park Sports Centre in Sai Ying Pun on Monday, said he was not too worried about a repeat of the mistake.

"The logistics and workflow at the vaccination centres are done very rigorously … so I think this is just an isolated incident," he said. "Perhaps some workers need more training and more alertness, so this won't happen again."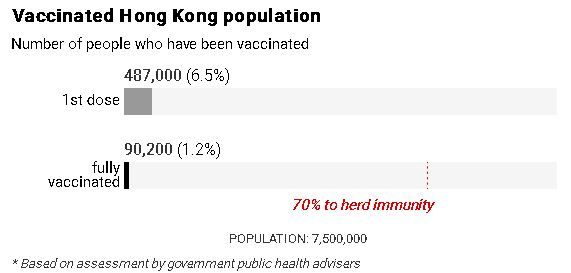 Allardice and his companion booked a slot to receive the BioNTech jab at Hiu Kwong Street Sports Centre in Kwun Tong at 6.30pm on March 18, but wrongly went to Kowloon Bay Sports Centre, which is about 3km away and only administers Sinovac jabs.

He said he was waved through without proper checks and given the shot he had deliberately decided to avoid after consulting his doctor about his condition. Allardice said he wanted the BioNTech jab because of its better efficacy, which would be reduced by his chemotherapy and leukaemia.

But two oncology experts said it was generally safe for cancer patients to receive either jab.

Cancer patient given wrong vaccine after mixing up inoculation centres

"They should protect themselves by getting vaccinated, [but] cancer treatment like chemotherapy may reduce the immune response [generated by] the vaccine, making vaccination less effective in this group of patients," said Professor Dora Kwong Lai-wan of HKU's department of clinical oncology.

Kwong noted cancer patients were more vulnerable and at a higher risk of dying if they contracted Covid-19, adding that both the Sinovac and BioNTech shots were safe for them as they did not contain live virus. But she advised patients to seek the advice of their doctor.

For cancer patients who had only undergone surgery, Kwong said it was safe to get vaccinated once they had recovered. Those who required chemotherapy after surgery should consult their doctor to check whether they should be inoculated before starting treatment, she said.

Dr Daniel Chua Tsin-tien, an honorary clinical associate professor at Kwong's department, agreed that cancer survivors and patients who were in stable condition could get vaccinated and said they should be assessed on a case-by-case basis.

"Some considerations include whether the patient's immune system has already been compromised due to cancer and if the treatment will significantly affect the efficacy of the vaccine," he said.

Chua added that while there was no preferred vaccine for cancer patients, people who had allergies or were worried about side effects should opt for Sinovac.

While Allardice admitted he was partially at fault for the mix-up, he said staff at the Kowloon Bay centre did not properly check his booking and "responsibility then falls exclusively on the vaccination centre" once he was directed inside the wrong venue.

The Civil Service Bureau – which runs the city's Covid-19 vaccination drive – apologised for the mishap and admitted that reception staff failed to screen Allardice and his companion, as was required.