District Court judge says 2019 rioters were 'selfish' and 'recklessly destroyed' peace of the city.
Ten people have been jailed for up to four years and 10 months for their parts in a riot near a university campus besieged by police at the height of the 2019 anti-government protests.

A total of nine defendants sentenced in the District Court on Tuesday were convicted in April of rioting during a large-scale disturbance near the Polytechnic University (PolyU) campus in Hung Hom on November 18 that year.

Judge Anthony Kwok Kai-on criticised rioters for their behaviour during the unrest.

"We can see the rioters are selfish. For personal ideals and their discontent about society, they recklessly destroyed societal peace," he said.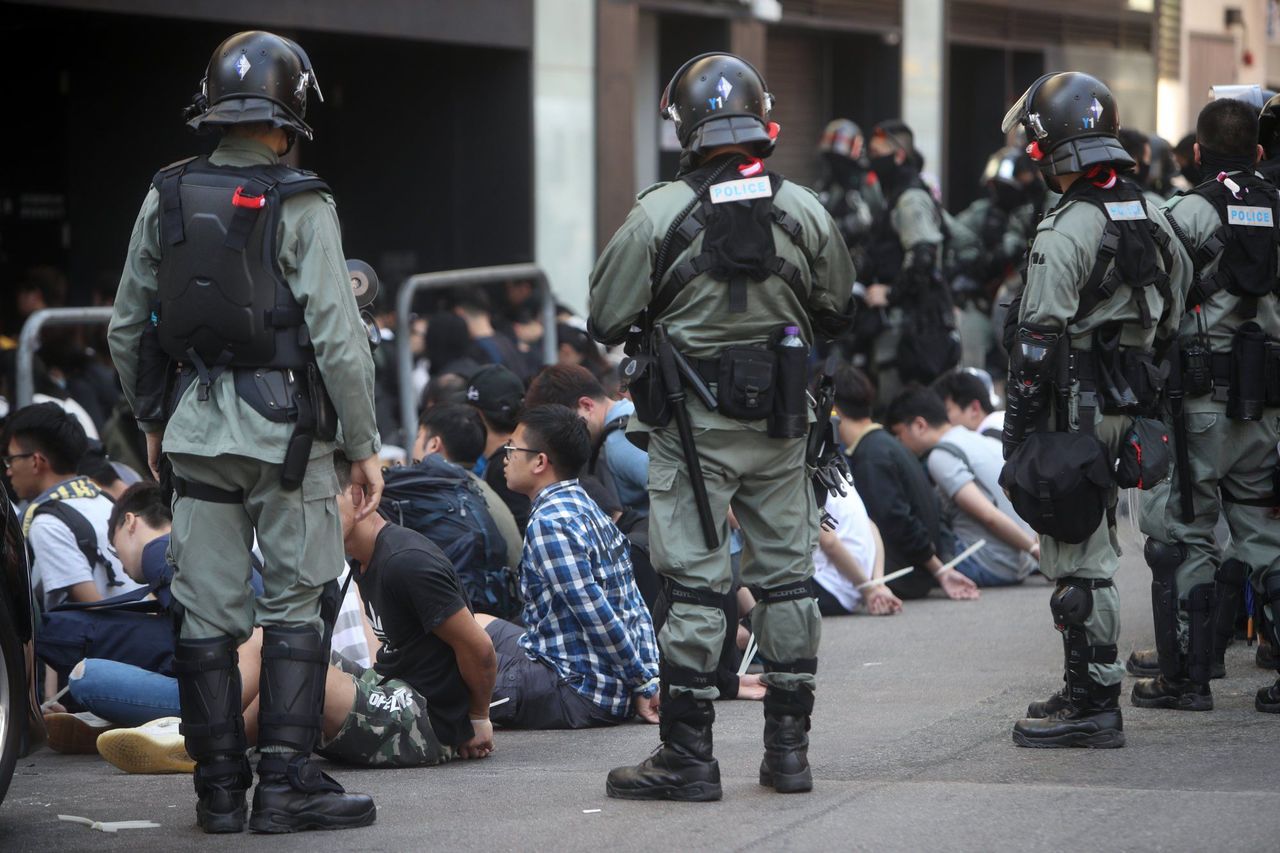 People arrested by police at Polytechnic University and the surrounding area during large-scale disturbances in 2019.

Kwok noted that a minibus operator had said in his testimony that his company had never recorded zero profits on a route in one day since it was established. The judge added the riots also affected the operations of other businesses, as well as the lives of people with homes near the scene.

One defendant, Ng Yuet-kiu, a 29-year-old divinity school student, was also convicted of possession of an article with intent to destroy or damage property and sentenced to three months in prison.

The court ordered that two months of Ng's sentence would run concurrently with his other one, which increased his jail term from 57 to 58 months, the highest imposed at the trial.

Another defendant, Yu Ka-ching, 26, a nurse, pleaded guilty before the trial started and was sentenced to 45 months in jail.

But all the defendants had their sentences reduced by three months by the judge because of their previous clean records.

This included Wong Chi-yung, 25, who had a previous conviction as a teenager, which the court decided to not consider.

Kwok said the sentencing starting point for the offence was five years, as the 10 accused had supported the rioters by staying at the scene, which meant they carried the same level of criminal responsibility as those with direct involvement in the disturbances.

He gave four defendants a lower sentence start point because they did not bring protest equipment with them.

Others who brought equipment such as helmets, goggles and black clothing did not incur heavier jail terms because Kwok ruled that the items were protective and there was no evidence the defendants had taken part in the riot.

On Chun-yin, 23, an auditor, was given a further three-month sentence reduction because of his background in martial art taekwondo, in which he had represented Hong Kong. He was also awarded 11 scholarships worth HK$150,000 (US$19,140) while he was a student. He was jailed for 57 months.

Yu's sentence was reduced by a quarter from 60 to 45 months.

The 10 were among 213 people arrested near Yau Ma Tei MTR station after online calls to stage protests across Kowloon in a bid to help those trapped inside PolyU by a police cordon.

The 213 were divided into 17 groups for trial. Convictions have been secured against 89 defendants so far, with two acquittals. Three others have absconded.

Prison sentences imposed earlier ranged from 29 to 64 months, as well as a period of detention in a training centre.