Kindergartens have fewer pupils due to plunging birth rate, emigration wave and absence of cross-border pupils.
One in 10 kindergartens in Hong Kong report they may have to close in the next two years due to the triple whammy of a plunging birth rate, an emigration wave and the absence of the cross-border pupils amid the Covid-19 pandemic, a survey has found.

More than 70 per cent of schools said they might also have to fire teachers due to financial difficulties, and the educator group that conducted the survey called on the government to extend a five-year grant issued in 2017 for a few more years.

The poll released by the Hong Kong Federation of Education Workers on Monday found 68 per cent of the 235 respondents recorded a drop in the number of applications for K1, the first year of kindergarten, in September.

Hong Kong has a total of 1,042 kindergartens with nearly 160,000 pupils.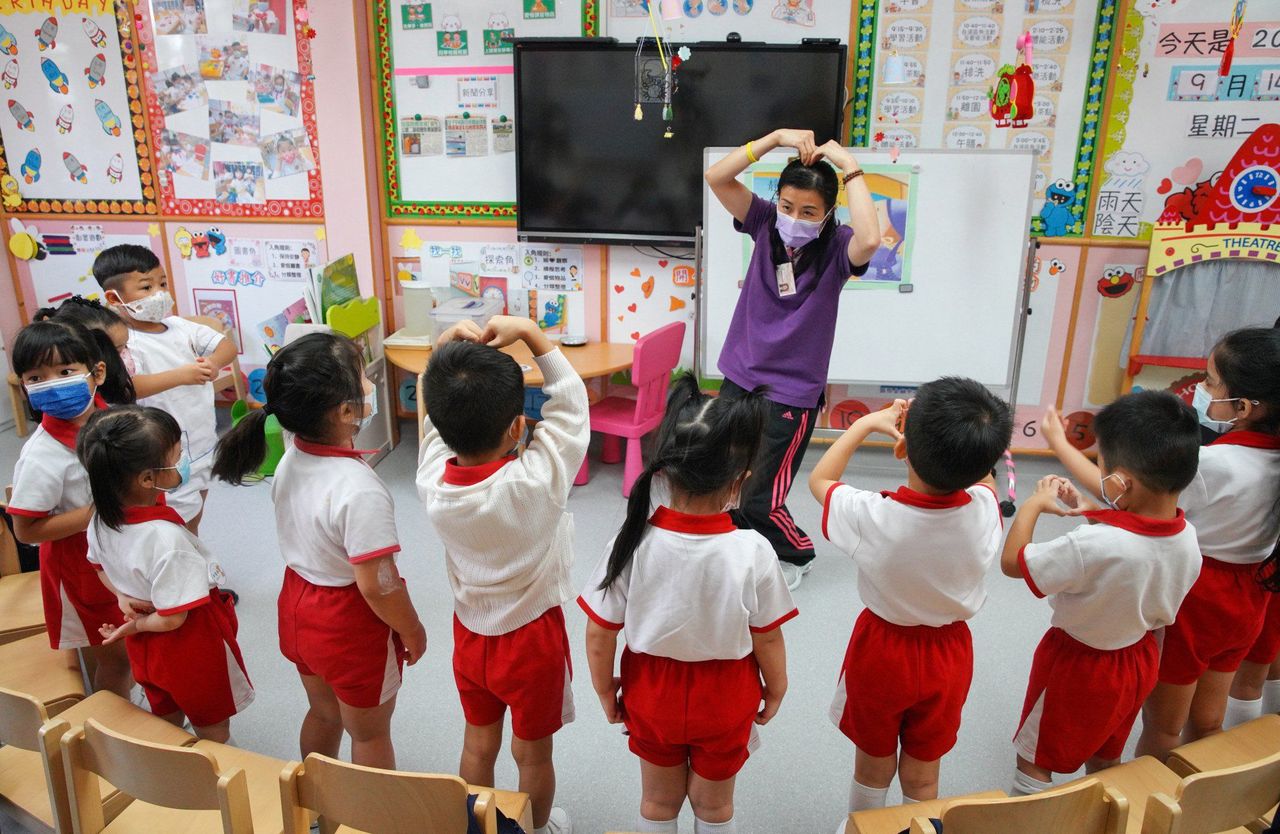 A third of kindergartens polled say they will freeze teachers' salaries.

Latest government figures showed only 37,000 babies were born in 2021, 6,000 fewer than the previous record low in 2020. In 2019, about 52,900 babies were born and they were expected to be promoted to K1 in September.

Two-thirds of the kindergartens surveyed said the number of applicants rejecting placement offers rose during the registration period in January, another one-third said the number had dropped or was more or less the same.

The survey conducted in May also showed the preschools lost about 16 pupils each, or 13 per cent of pupils, studying in half-day classes since the fifth wave of Omicron began.

One-third of the kindergartens polled said they would freeze all teachers' salaries, while another 9 per cent said they would cut all teachers' pay.

Apart from pay adjustments, 73 per cent of the preschools polled said they planned to fire two to three teachers on average. Only 18 per cent said they would maintain their current manpower levels.

A total of 4 per cent and 7 per cent of kindergartens surveyed said they might close down next year and the year after next, respectively, and about 10 per cent said their financial reserves were only sufficient for operating until the end of the current school year.

Nancy Lam Chui-ling, a kindergarten principal and vice-chairwoman of the federation, said most principals were worried about under-enrolment.

"A principal in our industry who said with tears that they have 84 children [K3] graduated this year, but only 20 students were enrolled [for next K1]," Lam said, adding that kindergartens in North District were suffering from a loss of cross-border pupils.

Lam described the emigration wave in Hong Kong as "serious", as most of the families leaving this year after their relevant applications lodged some time ago were approved in recent months.

An estimated 5.4 million of Hong Kong's 7.4 million population are eligible for the British National (Overseas) visa scheme, which allows successful applicants and their dependants to live, work and study in Britain for up to five years. They can then apply for citizenship after six years.

About 123,400 Hongkongers applied between January 2021 and March this year, with 113,742 winning approval.

The Post earlier reported that a total of 30,515 pupils quit Hong Kong schools between October 2020 and September 2021, bringing down the number of students from nearly 810,000 to 780,000.

Choi Lai-fong, a council member of the Hong Kong Federation of Education Workers and principal of a private kindergarten, said some schools suffered another blow, with 47 respondents saying the number of students applying for pre-nursery classes next year dropped.

"When [in-person] classes resumed in June, the situation was actually very serious. Some schools said 80 per cent of the students dropped out, with only 20 per cent of the students remaining," she said.

She added some kindergarten teachers class teachers had been asked to take unpaid leave and some had taken temporary jobs during the break.

The educator group called on the government to increase the recurrent subsidies per student per year for kindergartens from HK$36,080 to HK$44,000, a demand echoed by 83 per cent of the poll respondents.

They also hope the government will extend a five-year grant launched in 2017 for two to three years. The grant for each student is HK$2,420 a year.

A spokeswoman for the Education Bureau said the demand for teachers would "naturally decrease" and the number of kindergartens would also reduce with the decline of the student population, adding that the five-year grant would be terminated as scheduled as the allowance only aimed at providing short-term financial support.